Ten Twangy Tunes to Celebrate Coming Out Day
By Dale Henry Geist, Editor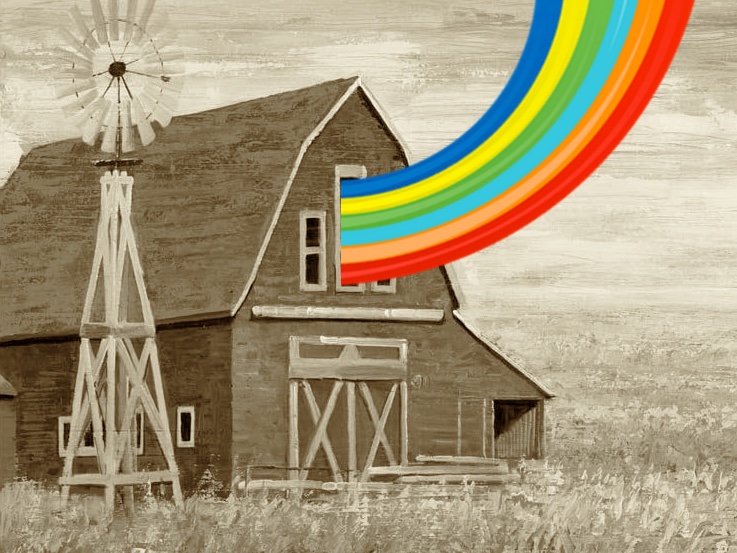 Lying awake last night, stressed out, I closed my eyes and asked my late sister Diane what I should do.
"Shine," she said.
"That's what we're here for."
Declaring yourself to the world is never easy, but it's what your heart and soul need, and it's what the world needs from you. Stand up and shine.
Here are ten songs that explore the fear, heartache, and joy of coming out. May they prove to be an inspiration.
---
1. "Breathe Out," Roseanna Jones
Released today, the UK artist's solo debut, "Breathe Out," extends a compassionate hand to all the people who have suffered the anguish of being closeted. Not incidentally, the song also marks Jones' public coming out.
2. "Loving Her," Katie Pruitt
This exuberant love song was released on Coming Out Day a year ago, and declares Pruitt's unashamed love for her girlfriend.
3. "Hometown," Brandon Stansell
Coming out can be heartbreaking if you've got a family that just doesn't accept your identity. This beautiful mini-film looks at that heartbreak – and its redemption.
4. "Lost Angel," Mya Byrne
If coming out gay, bi, or pan, can be tough, coming out trans can be even harder. CQ's own angel, Mya Byrne, wrote this song for everyone who's been through it or will someday.
5. "All American Boy," Steve Grand
At first blush, this video looks and sounds like a typical country party song. But Grand cuts right through the problem this scene holds for queer folks, and finds the perfect image to counter the same old story.
6. "Give It Time," Mother's Daughter
Another coming out song that debuted right here not two weeks ago, 'Give It Time' tells the story of a gay girl coming out to a tight-knit conservative family in a small mountain town in Idaho.
7. "I Never Came Out," Adeem the Artist
In this Coming Out Day debut, Adeem (also a CQ writer) opens up their heart in a raw and vulnerable slice of queer beauty.
8. "Like Me," Chely Wright
Carrying the whispered, yearning agony of the closet, this is the title track from queer country pioneer Wright's "coming out" album. (We interviewed Wright earlier this week.)
9. "Dancing In the Living Room," Cameron Hawthorn
This romantic slow dance says, simply and elegantly, "Love is love."
10. "The Coming Out Song," Ally Hills
OK, not country. But if you need a little help coming out, just send this tune to your intended audience, and boom! – your work is done.
---
If you're out, take a minute to remember the moments, the courage, the love. If you're not out, we get it. We're here for you. And if you decide that today is the day…well, we've got a song for you.