MIXTAPE, 12/11, "Potluck," Sam Armstrong-Zickefoose
By Eryn Brothers, Staff Writer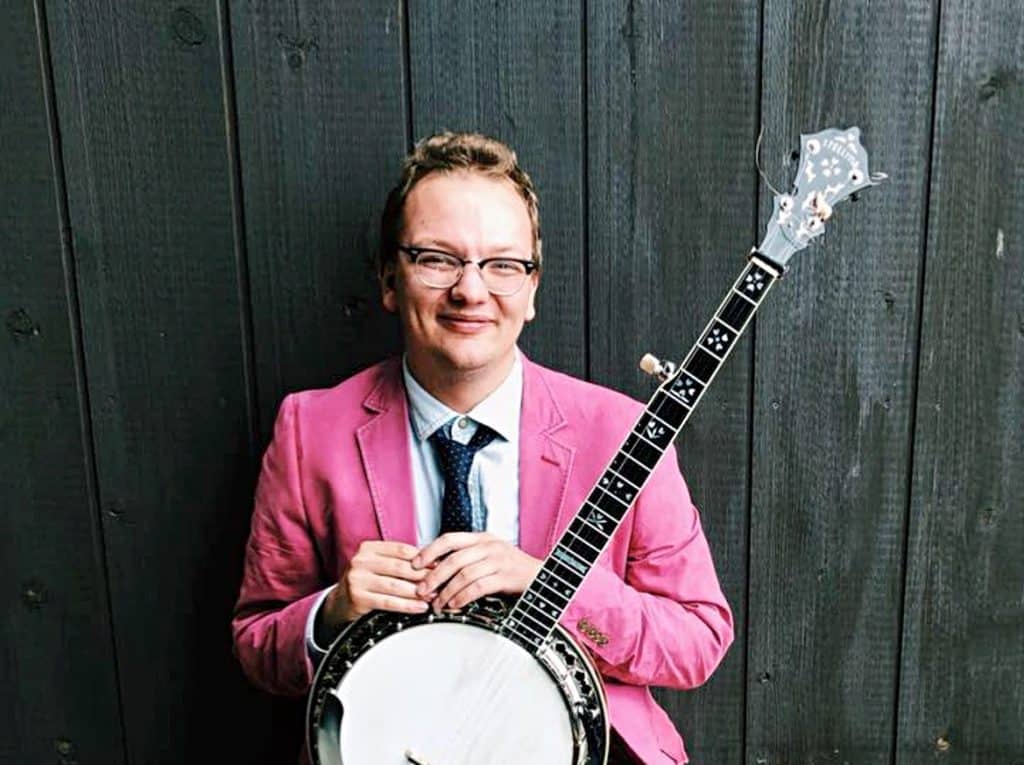 For our final MIXTAPE of the year, Sam Armstrong-Zickefoose – who you may remember from our article Bi/Pan Artists You Need To Know – made a playlist around the theme "Potluck," (bottom of the page) and sat down with us to talk about Myspace, Black Sea Hotel, Jake Blount, Bluegrass Pride, and the Queen of Us All, Dolly Parton. Getcha some grub!
---
What's your go-to dish to bring to a potluck?
I always like to bring something sweet, like pie and ice cream! I've got a huge sweet tooth and it's always a bummer to have no dessert at the potluck. Plus, if somebody else brings pie nobody is gonna be sad that there is lots of pie. I think there are like 5 songs on the playlist that have pies or sweets somewhere in the lyrics.
Do you have a favorite dish for someone else to bring?
I think what makes a good potluck is a chance to get to know friends in a personal way by sharing food that they love or from a family recipe. That being said, I get super excited when somebody brings deviled eggs and I will eat 8 of them.
What's the best potluck you've ever been to?
There have been so many good ones. If I could only play house concert potlucks for the rest of my days it would be a dream come true. I think one of my fondest memories was one of the first potlucks I went to in Denver. There was some really good home cooked food and then like, 6 people brought chips and hummus. One room has a raging old-time jam and the next room had a heady jazz jam. I met a lot of friends that day and I was feeling excited to be in a new place.
That's so charming, and it seems like a good welcome to a new part of life! You've spent quite a bit of time in Santa Fe, how has that informed your musical path?
I feel like the scene in Santa Fe really encourages everybody to have a unique sound. It's a fairly small scene so it's not like the bluegrass or folk scene in Denver. I thought that was freeing because there wasn't like a specific "Santa Fe bluegrass" sound I felt like I had to fit into. The group of people that I was around were all pursuing something really special and personal. I think that was especially important for me since those were very formative years. I have traveled around a whole lot and still haven't found a scene quite like that.
You reference the idea that certain sounds and techniques come from certain places. What exactly is the Denver Sound? What do you think that the Santa Fe Sound would be? My vote is loads of banjolele, trumpet, and gamelan. Someone blows bubbles in the distance.
SAZ: That for sure sounds like the Santa Fe Sound! I imagine some atypical instruments for sure. Maybe some songs about prairie dogs that have the potential to be super cheesy but are actually very moving? The Denver sound to me is like a sort of feel good bluegrass. Like it's a little tender and sweeter sounding. I think of bands like Trout Steak Revival. They were one of the first I'd heard from Denver. There are all kinds of bluegrass bands here doing different things but that seems to keep bubbling up. 
What's the best jam you've ever been to? What exactly does a jam constitute, for those of us that are not in the traditional vein of music?
A jam is any group of people playing some tunes that are commonly known in the style. In Old Time it's often a bunch of dancey-party fiddle (the best are with a disproportionately large group of fiddles) tunes with maybe a mournful song thrown in towards the end of the night. In bluegrass it's usually people improvising over fiddle tunes and classic songs. I think my favorite jams and the best ones I've been to aren't locked too tightly into any genre. I especially like some smaller jams where it's sort of a mix between old-time, bluegrass and country with some original songs thrown in there. But I also especially like the massive till 2am old-time jams with, like, 20 fiddles.
How do you think traditional music can be more inclusive? It seems like this is an ongoing theme within this genre. Are there specific artists you wish more people knew about?
I think one of the most helpful things to make the traditional music scene more inclusive is just having more people included in festival and concert line ups. So much of traditional music – or at least my favorite experiences with it – is in person at jams, shows or festivals. I'm really thankful for everything Bluegrass Pride has done and that y'all have done. Some of my favorite artists that I wish people knew more would be Jake Blount, Kaia Kater and Che Appalache.
I love Jake Blount! You've worked quite a bit with Balkan and Ugandan artists. If someone were to explore more Balkan music or Ugandan music, where should they start?
I was so lucky to have teachers like Polly Tapia Ferber leading the Balkan ensemble and Peter Mugga teaching us the Ugandan songs. There is a group Peter Mugga worked with called Spirit of Uganda that has some awesome recordings. A gateway for me was watching Béla Fleck's documentary "Throw Down Your Heart" and exploring artists he collaborated with. I found a great group called Ngoni Ba that way!
Black Sea Hotel is a great group that does some Bulgarian vocal music that is fascinating. I think the best thing would be to try to see some of the music live (kind of a tall order these days) and use that as a jumping off point! I think Shto Mi E Milo [This video goes to Pete Seeger's show and is 100% worth a rabbit hole watch – EB] is a great song to start exploring some of the Balkan music. There are a ton of versions and I love the melody.
So, I see you put Hard Candy Christmas as the final song of this mix. Dying. Do you have a favorite Dolly Era or Dolly song?
YES! This is the best Christmas song that's not really about Christmas. I love so much Dolly, but I especially like The Grass is Blue album and the Trio albums. I grew up listening to a lot of bluegrass and Emmylou Harris. When I got really into Dolly a few years ago those albums were like worlds colliding.
For me, that was Little Sparrow. That album blew my lid! I'd always really loved bluegrass, jug groups, traditional music, and hearing Dolly, who has done everything from broken woman country to synth-filled pop numbers, sing modern and original songs in the traditional Appalachian style – that got me. I think the real banger on that album is "Marry Me," because yodeling Dolly is the best Dolly.
Oh my lord! "Marry Me" is such a good song. I've been scheming a cover of that one for a while. Those covers she does are wild. She also does "Traveling Prayer" by Billy Joel on Grass is Blue. 
All hail Dolly! When I was growing up, it was all Neko Case, Gillian Welch, Old Crow Medicine Show boom of the early 00's. It was the days of Myspace and Mixed CDs so I am pretty sure I listened to a lot more bluegrass.
I was too into Fall Out Boy at the time to check out the bluegrass on MySpace. I'm sure that was a wild scene. I find a ton of new traditional bands on Instagram these days! Especially by looking through the dorky banjo tags like #dropthumbsnotbombs
Fall Out Boy rules, too. You know, bluegrass always felt safer to me before I came out-the musicians seem to have a more…hippie liberal mindset than the country players/lovers when I was growing up. It was a little more of an accepting group, a little more self aware in their humor and disposition.
That is interesting. I totally can relate to that. Knowing that Bluegrass Pride was around and meeting more queer traditional musicians was sort of a big part of me opening up about being Bi. A lot of the bluegrass/Americana community is very welcoming! Especially the progressive folk music people. They are usually very encouraging and supportive to younger musicians too. There is also another side of the scene that can be intimidating and unwelcoming to people on the peripherals of the tradition.
I have gotten plenty of snide comments about "not really playing bluegrass" or "not sounding like old-time" because I've always tended towards the progressive side of banjo. I know that feeling can be more intense for people that don't look like me. It's tough to navigate because some of the kindest and most encouraging people I've met have been from playing this music but it's also made many people uncomfortable.
Well sometimes people are pretty put off and uncomfortable around a lot of bluegrass. So there. They can go to hell. [laughs]
I sure can be put off by bluegrass too! [Laughs.] It's hard to pin down what causes this. I think it can feel like bluegrass or traditional folk music belongs to one group of people because of the way it has been documented that way and how it is usually represented. It's important to keep reminding people that this music comes from a combination of a lot of different cultures that were exchanging all sorts of music. I think what resonates with me about the music is that it comes from a diverse group of working class people that were seen and treated as outsiders. So through better representation and education we can remind folks that this kind of music can belong to everyone.
MIXTAPE is our bi-weekly feature in which Eryn Brothers invites an artist to create a themed playlist and talk about the tunes on it.