QueerCuts: Sarah Shook 7″!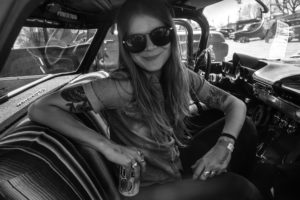 I am so excited to tell you about this new music from Sarah Shook and the Disarmers. Full disclosure – my band opened for Sarah Shook and crew back in July of 2018 at the Bottom of the Hill in San Francisco. It was a rowdy show with a capacity crowd of old school country punks eager and enthusiastic for both Secret Emchy Society and Jason Hawk Harris (who was amazing and taught me to two-step during Sarah's set!) – but the audience was hungry – and I mean HUNGRY for the addictive and raucous music of SSATD. But, I was a fan long before I was an opening act – and this review is super objective.
That said… it's fucking awesome.
After a few, ok, a lot, of listens to this new 7″- I have no doubt this new release will get your appetite roiling as well. Be warned! It's currently available ONLY on Apple Music until December 7th when it goes out to the whole world.
The first song on the release is 'The Way She Looked At You.' It's a solid country ballad with George Jones overtones and yet still uniquely Sarah Shook. The talent that SSATD have for making traditional country sound new and refreshing isn't surprising given their impressive track record – but (not to repeat myself) it is seriously fucking awesome.
The B-Side 'Devil May Care' is a classically rollicking tune that'll get any room up and moving. 'The devil may care but I don't give a damn' is an instantly iconic line, add in amazing lap steel / guitar solo work and this is one of those songs that 'should' take the radio by storm – if the FCC could set aside those pesky profanity rules and corporate radio could put aside their addiction to overproduced pop country. This is the put on your boots and let's go tear it up kind of song that the world needs right now.
The first albums – 'Years' and 'Sidelong' by SSATD have taken the music world by storm – mixing up honky tonk sounds with the sort of pathos and humanity that makes you put an album on repeat for weeks at a time. Somehow it's the perfect music for a night out drinking, nursing a broken heart, or waxing nostalgic for the good old days. I'm floored by how many times I can listen to their music in a row with it always being the exact right thing for the mood I'm in – no matter how much my mood changes. This new release quickly cozied up to my heart and is my new friend crush, my new best pal, my new partner in crime – and there could be none better.
Here's a preview of the band performing 'The Way She Looked At You' (and check out the upcoming tour dates below that!)
Sarah Shook solo performances:
1/12 and 1/13/2019 – Trópico de Cancer – Calle Benito Juárez, Todos Santos, Mexico
Sarah Shook & the Disarmers:
1/16 – WDVX's Tennessee Shines at Jig and Reel – Knoxville, TN (tickets)
1/17 – Southgate House Revival – Newport, KY (tickets)
1/18 – Lincoln Hall / Tomorrow Never Knows Festival – Chicago, IL (tickets)
1/19 – Uptown Grill – Lasalle, IL (tickets)
1/20 – Rose Music Hall – Columbia, MO (tickets)
1/21 – Mercury Lounge – Tulsa, OK
1/22 – AAC Live – Fort Smith, AR
1/23 – Fort Worth Live – Fort Worth, TX
1/24 – Rustic Tap – Austin, TX (tickets)
1/25 – The Lonesome Rose – San Antonio, TX (tickets)
1/26 – McGonigel's Mucky Duck – Houston, TX (tickets)
1/27 – Dyson House Listening Room – Baton Rouge, LA (tickets)
1/29 – Fifth and Thomas Kitchen and Music House – Tallahassee, FL (tickets)
1/30 – Crowbar Live Music – Tampa, FL
1/31 – Will's Pub – Orlando, FL (tickets)
2/1 – Ashley Street Station – Valdosta, GA
2/2 – The Jinx – Savannah, GA (tickets)
3/7 – Grey Eagle – Asheville, NC (tickets)
3/8 – Basement East – Nashville, TN (tickets)
3/9 – Aisle 5 – Atlanta, GA (tickets)
3/21 – Hi-Dive – Denver, CO (tickets)
3/22 – OP Rockwell – Salt Lake City, UT (tickets)
3/23 and 3/24 – Treefort Music Fest – Boise, ID