Jaime Wyatt, Country Rebel
The Artist's Crooked Path To Queer Authenticity
By Rachel Cholst, Contributing Writer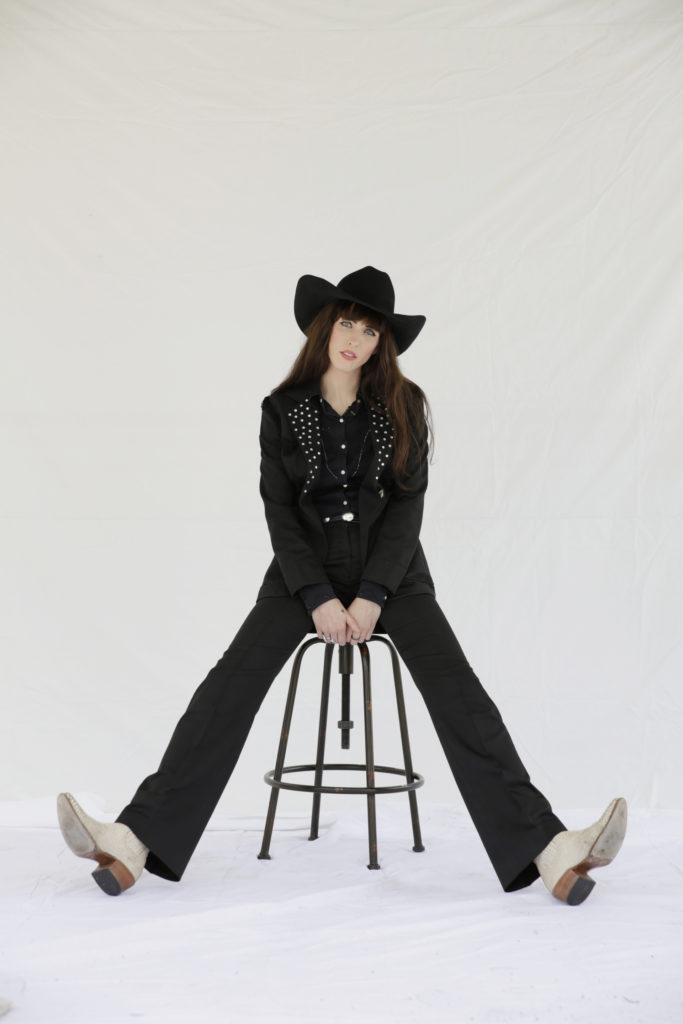 I caught up with Jaime Wyatt early on in the pandemic — about mid-April. She had planned to make a big splash with her sophomore album, Neon Cross, which came out on New West Records on May 29th. The album is a dreamy country masterpiece, given a vintage patina by producer Shooter Jennings. Wyatt had already pricked up a number of trad country fans' ears with her 2017 Felony Blues.
That title isn't a gimmick: after a promising but false start in music as a teenager, Wyatt did a brief bid in LA county jail after robbing her heroin dealer. On Neon Cross, Wyatt explores the messy path that led her to sobriety — and finally understanding herself as a queer person.
When we spoke in mid-April, though, Wyatt was appreciative for the opportunity to slow down.
"I'm doing a lot of interviews, which normally I'd be doing; I'd be balancing or juggling even more stuff. Like I'd be on the road in the van doing an interview, getting out, doing a soundcheck, doing an interview, you know what I mean?" 
Wyatt is trying to find the positives here: "It's happening, and then I can either be really depressed about it, or I can like take it and use it for good. So there's been a lot of reading and meditation and podcasts and catching up with people and family and whatnot." 
She's also appreciative of the opportunity to "get weird" — to re-learn the chords to the songs on Neon Cross, to filter them through an acoustic lens, and to mine old Hank Williams records for covers. 
Of course, this is not the album premiere that anyone plans for. "Money sucks, but money always does. You know what I mean? Like when is it not a struggle? How are we going to recoup the record? But, shit, that's not exactly why I make music. I mean sure — eating's good."
She laughs.
"But I don't know. The universe works in mysterious ways, so more will be revealed." 
True Queer Country Rebel
Wyatt's certainly lived through enough hardship to have authority on that. Wyatt grew up in Washington state, the daughter of a country singer. She moved to Nashville from LA a few months ago to situate herself in the heart of the scene.
Wyatt has been out for three years — and that moment of revelation is intrinsically tied to her art.
When (not if) you catch Wyatt live, you'll be taken by her presentation: she has a fondness for performing in vintage Western suits, designed by her mother Rhonda Knight. It's more than a lewk, though.
"I was in Seattle with a friend of mine who identifies as queer. She had given me a suit to try and just joked around saying, 'You look kind of queer.' But it really did help turn on the light bulb for me. It was like, 'Oh, I feel powerful; I feel more like myself.'"
Wyatt describes herself as a tomboy and a skateboarder during her teenage years, feeling isolated in a small town with few examples of the gender expression she wanted to portray.
And, well, if the suit fits…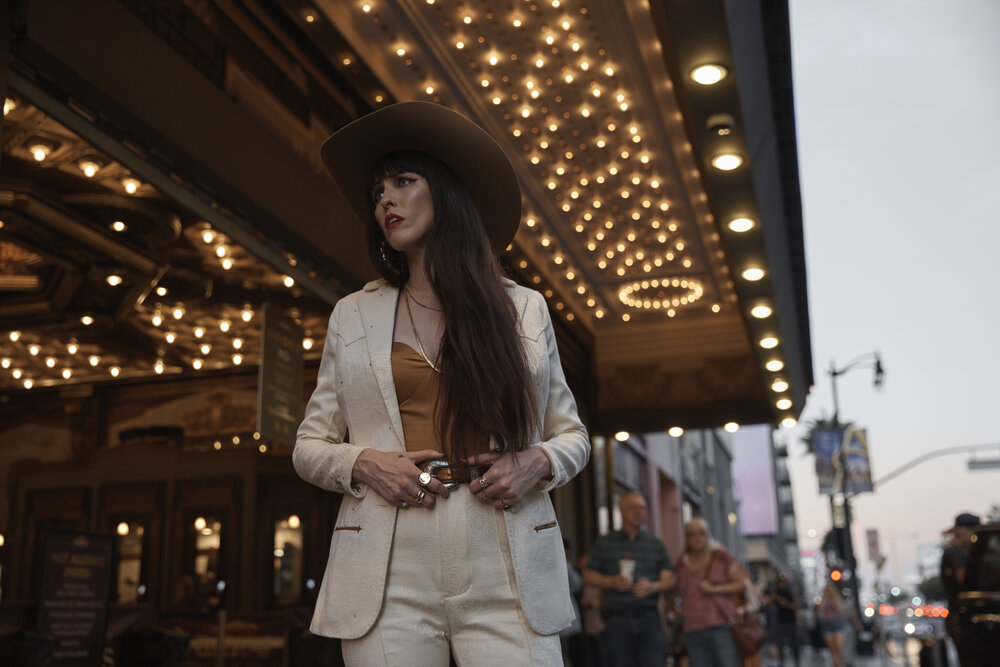 Coming Out Country Queer
Wyatt hesitated to come out when she released Felony Blues — mostly for lack of a clear path forward.
"I didn't know if it was okay to be out in country music. I've had family say it wasn't a good idea."
But Wyatt was aching to reveal this part of her. As many of us have experienced, repressing yourself can lead to real pain. 
"It got to the point though, where it just felt like 'I don't really care.' I don't really care if they leave because I'm gay, because I've got to be a person and I gotta be okay with who I am on this Earth or I'm not going to stick around. I've experienced drug addiction and debilitating depression, suicidal ideation, and whatnot. I just felt invisible to myself and the world." 
With the Neon Cross rollout, Wyatt feels intense relief.
"I'm gay as fuck and I'm really stoked about being out. It feels better and better to be able to talk about it on social media. Things are working out better than they ever did before because I'm fully authentic to who I am and living my truth."
More importantly, fans have started to reach out to her to share similar stories. 
The most explicitly queer song on Neon Cross is not a coming out anthem — though Wyatt told me she has one or two coming down the pipe. Instead, "Rattlesnake Girl" captures a specific moment in the arc of coming out: that yearning to belong, but not being sure how to take the jump.
"I was trying to capture a particular emotion around seeing other people be happy, joyous, and free, and that I wasn't quite there. Um, yeah. I don't know if this has to do with not being super in touch with my identity, but I've always felt like an outsider."
That's not the case now, though. Since coming out, Wyatt has become more, as she puts it, "bold."
"Everything's just falling into place and feeling easier. Here's what's interesting: I feel better asking for what I want. I used to be much more reserved and didn't really ask for what I wanted or even needed. I'm just more empowered."
Turns out, the universe does have a plan. Until March, the album rollout was going well; she's just started seeing someone; it feels like things are falling into place. "It's just some sort of mystical thing: I'm able to manifest what I want because I'm just more honest."
Wyatt left us with a final thought, what she really wants to emphasize to her fellow country queers:
"I would love to connect with my people. Things are changing and really, really drastically improving for people like myself." 
"Neon Cross" is available on all streaming services, CD, and vinyl at http://newwst.com/neoncrossID.