Brandi Carlile Kills It Live from the Ryman Auditorium
By James Barker, Staff Writer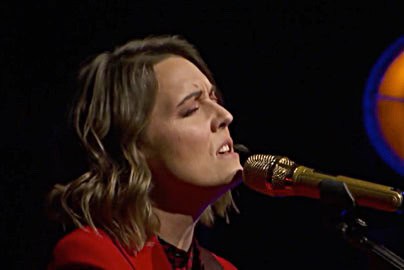 "We just need to stick to the programme, the world's going to return to the way it was soon, just we'll be a little bit more grateful," Brandi Carlile told the audience at her Live from the Ryman show on March 28.
As Carlile returns to her first live show in over a year, in the Ryman Auditorium, she is certainly not taking anything for granted. Performing in the Mother Church of country music, Carlile proves that she belonged here all along.
Carlile has her full band with her and is clearly excited to be back performing live again to a (socially distanced, masked and vaccinated) audience. The band rock out on 'Raise Hell', 'The Story' and 'Pride and Joy'. Yet the show's most captivating performances are a little more stripped back, such as when showing off the three-part harmonies of Carlile, Phil Hanseroth and Tim Hanseroth on 'The Eye.'
When introducing 'Pride and Joy' Carlile reminds the audience of the organizations the show is donating funds to: The Rainey Day Fund and Fanny's School of Music in Nashville. CMT will match these donations to the Color Me Country Fund. Carlile's foundation will match donations to all three, and Carlile announced on the show that Fiona Prine will also be matching donations. This moment also serves to reiterate the importance of supporting LGBTQ+ and BIPOC artists in country music.
As an artist who had been widely recognized across Americana, folk, rock and over the last few years achieving wider recognition within mainstream country (her GRAMMY win for Best Country Song she tells the audience she is still thrilled about), it is particularly great to see her perform at the Ryman.
Throughout the show, Carlile makes her country credentials evident with her yodeling introducing 'Have You Ever', performing the lead single from Tanya Tucker's latest album (that Carlile co-produced and wrote on) 'The Wheels of Laredo', and teaching the audience (her vaccinated choir) to do a three-part harmony on 'Turpentine.'
The show does a perfect job of capturing the experience of live shows, even as most of us are watching it from a computer screen. Carlile connects to the audience through the screen and her joy of performing on stage again is infectious.
She tells stories behind the songs such as 'The Mother' where Carlile gave us an intimate insight into her experiences as a mother to her children and how not being the parent that gave birth to their daughter, she could not identify with "the Dad narrative" either. She says it took a "different parental timeline to realize I am her mother." This candid personal story is a powerful reminder of families coming in different shapes and we get to pick the identities and narratives that best suit us.
Another highlight is 'Fulton County Jane Doe' about a news story her band read in Fulton County, Georgia about a woman who died, and they knew nothing about her, not even her name. "She might leave here without a name, but if we can help it, she won't leave here without a song" Carlile says as she introduces 'Fulton County Jane Doe.' Here Carlile bridges the raw intimacy of live performance with the transformative power of country songwriting that gives lives that may be glossed over some recognition and dignity.
The other element of live shows we've missed is surprise, and Carlile delivered plenty. Ahead of the show we were promised covers, and these did not disappoint: Leonard Cohen's 'Hallelujah,' Joni Mitchell's 'A Case Of You' and Elton John's 'Madman Across the Water.' It's a testament to Carlile's musicality that her interpretations stand up to the originals, and it's a testament to her songwriting that these covers work seamlessly within her set and don't outshine Carlile's own songs.
And I can't not mention the stunning feature of Monica on 'Crowded Table' that gave the evening an added bit of stardust with another great vocalist on stage with Carlile.
The closing leg of the show features two of Carlile's best songs from her last album, the stellar 'By The Way, I Forgive You,' showing the full breadth of Carlile's talents from the stadium anthem 'The Joke' to the intimate and moving 'Party of One.' Carlile then announces that she has recorded a new album and performs the new song 'This Time Tomorrow.'
This new song is the best of what we have come to expect from Brandi Carlile: the crunchy punch of Americana rock meeting the intimate tenderness of classic country songwriting. This show features Carlile at the top of her game and deserves all the praise and recognition she is now getting that has long been overdue!
---
Set List
Hallelujah (Leonard Cohen Cover)
Raise Hell
The Story
The Eye
Fulton County Jane Doe
Have You Ever
Cannonball
Sugartooth
Madman Across the Water (Elton John Cover)
The Mother
The Wheels of Laredo
Crowded Table (Featuring Monica)
A Case of You (Joni Mitchell cover)
Turpentine
The Joke
Pride and Joy
Party of One
This Time Tomorrow
Amazing Grace
The show is available to watch until April 12th. For more information go to brandicarlile.veeps.com.