"Bile & Bone," Al Riggs & Lauren Francis
By Cher Guevara, Staff Writer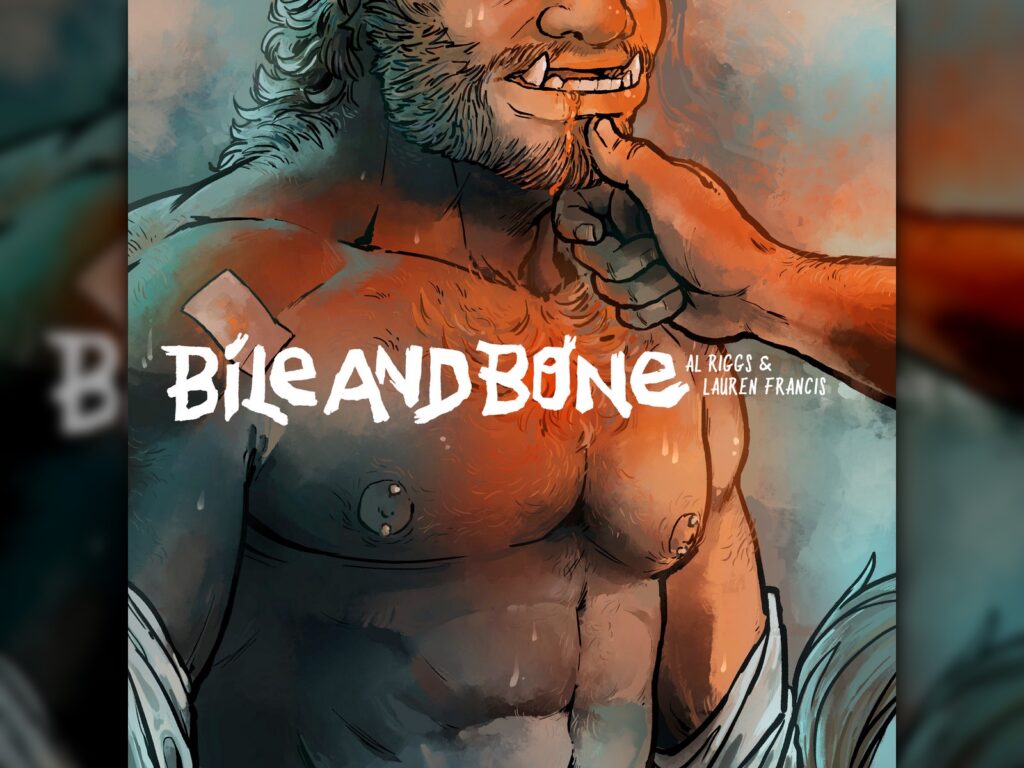 2020 has been a busy year for gonzo North Carolina folk singer Al Riggs (they/them); from releasing archival live recordings to a slew of singles to an experimental jam album, they have been putting their heart and guts out there. And now as we enter the last part of this strange year, they are dropping a full-length album with musician Lauren Francis called Bile & Bone, a project recorded in New York and Durham that took two years to bring to fruition.
Opening with "Werewolf", the album begins with a traditional folk sound, Riggs strumming out their acoustic guitar and singing in a gentle near-whisper. It's the subtle background build up that underscores this cut, ranging from what sounds like plucked strings to single piano notes, building and building until Riggs has built this ethereal pillar around him. It sounds sort of like Phil Spector's famous "Wall of Sound" and the effect is astonishing, ending in a noisy crescendo.
The masterful blending of sounds continues with "Love is an Old Bullet," with Riggs on their acoustic guitar and Francis on the piano. The two instruments dance playfully, neither one really taking the lead. It's the same with the vocals: while Riggs takes the lead on the verses, Francis joins him on the chorus, each nearly whispering the refrain "Love is an old bullet," punctuated with striking piano notes and plucked reverbed electric guitar.
"The Richardson Spite House" strips things completely away from traditional folk and goes straight for an old-school synth/new wave sound, complete with the thumping electronic drum machine and a wash of synthesizer sounds. Halfway through, you can hear some softer acoustic guitar chords, but they are buried and blended in the electric waves. Riggs continues their soft singing style, making their vocals nearly as light as the synth sounds dominating this cut.
We're stripped even further away from folky guitars in "Apex Twin", a cut completely composed on the piano, with only a few atmospheric sounds mixed in. The piano, even with the reverb and over-soak, sounds like something you'd hear in a lonely bar on a late weekday night when only the regulars are in; ordering their beers and whiskies, running away from whatever is hurting them. And Al sings their blues beautifully, slurring their vocals just a tiny bit to let them mix into the ether.
"Boyfriend Jacket, Boyfriend Sweater" lets us back into folk territory. While still featuring thumping electronic drums, Riggs' honky-tonk guitar cuts right through the mix, strumming a perfect, foot-tapping rhythm to go along with the drums and noise. If there is a cut that could be a top radio single, this is it. Maybe not on the country stations – it's still a bit too gonzo for that – but I could hear this bopping up the top 40 on an alternative station.
"Dying Bedmaker Variations," an interpretation of the old blues number "Jesus is a Dying Bedmaker" (first recorded by Charley Patton in 1929), is a pure funeral dirge, full of lonely guitar riffs and overpowering electronic noise, wrapping around you like the arms of the Reaper himself before fading out into a few sad piano notes. As a fan of old blues records, I am floored by Riggs and Francis's interpretation here. This is 21st-Century blues done right, done faithfully, and yet done differently.
"Livalon" takes the experimental recording style to the edge, with the guitar sounding less like an acoustic and more like an unplugged electric that somebody put a mic near. Riggs vocals sound hollow and echoic. The only thing here that sounds clean and polished is the atmospheric noise that coats the track. As a longtime fan of garage demos and bootleg tapes, I love what the duo did here with the production. Like many great contemporary musicians, they made the studio and production style an instrument unto itself.
"Bile & Bone" comes up next; once again, mixing Riggs acoustic with Francis's piano in a blend of downtrodden contemporary blues. This is a lonely, somber cut, the song of a drifter looking for love and a place to fit in. There is a spot of hope there, Riggs singing about trying to find a way out, but the weight of the world seems intent on crushing their heart and their guitar.
The album comes to a close with "Past Few Shows", a road song putting Riggs' acoustic guitar front and center. They strum and whisper their way through life on stage with Francis providing the backing noise. It's a fitting ending to this amazing album.
This album isn't for everyone; you won't find any honky-tonk dance stompers here, the sounds are somber and often strange. But if you want to hear how far country music can be pushed in 2020, then I can't recommend this album enough. This was my first time hearing Al Riggs and sweet unholy Satan, how did I miss them? This is stone strange brilliance and I think Al and Lauren should be in the running for best underground country album of the year.
"Bile & Bone" will be available on September 18, 2020 on Bandcamp.