Andrew Sa's Radiant Country Vision
By Tyler Morgenstern, Staff Writer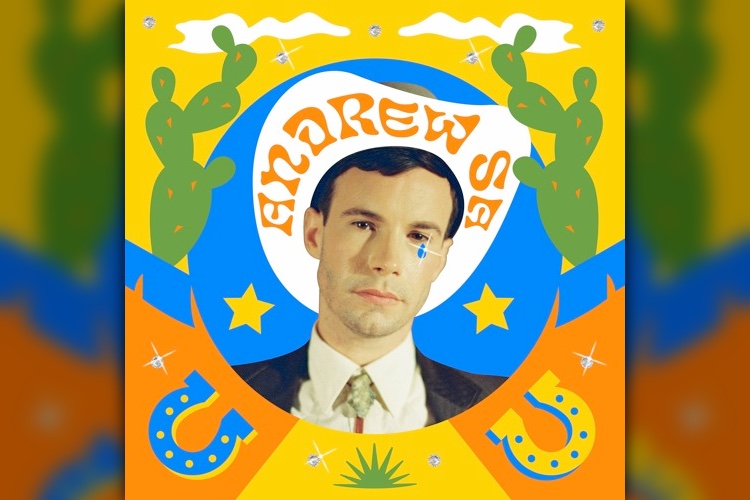 The cover art for Cosmic Country Stars, queer country crooner Andrew Sa's latest release, is positively radiant. Cartoonish horseshoes and cacti, rendered in technicolor oranges, greens, and yellows, enclose a cameo-style portrait of the Chicago-based actor and vocalist, clad in a stylized white stetson and bolo tie. A single, sparkling tear rolls down his left cheek. One could hardly imagine a more fitting image for this brief but delightful collection of covers, which finds Sa wrapping his signature woozy vocals around such classic tunes as Chris Isaak's "Wicked Game" and the Everly Brother's 1960 ballad, "Love Hurts." Due out June 4, Country Queer was fortunate enough to get an advance listen to Cosmic Country Stars: Andrew Sa.
Born of Sa's performances at the Cosmic Country Showcase (a camp-country revue based at Chicago's The Hideout) and produced by Dorian Gehring at Fox Hall studios, this delectable offering shines throughout. Sparkling pedal steel and gentle, splashy percussion complement Sa's shimmering vibrato—each element gleaming like the faux rhinestones that stud the album's frontispiece. But make no mistake: this record is lavishly, luxuriously blue. Channeling the weepy theatrics of Webb Pierce, Sa embraces with open arms the "androgynous glamor" and emotional excessiveness that, as music historian Stephanie Vander Wel writes, have long pushed figures like Webb to margins of mainstream country mythology.
Nowhere does this approach work so well as on Sa's rendition of Roy Orbison's "Blue Bayou." Taking distance from the brassy belts that, in 1977, forever stamped the tune with the name Ronstadt, Sa's voice quivers and quakes as it sails toward the melody's upper reaches. As if through stifled tears, Sa croons to the night sky, almost pleading: "Oh that boy of mine, by my side, the silver moon and the evening tide, gonna take away this hurting inside." In a wry twist, he follows it up with an Orbisonian take on Neko Case's "Wish I Was the Moon," featuring long-time Case collaborator Kelly Hogan. In an appropriately cosmic move, Sa pivots from terrestrial pining to celestial fantasy, slipping the surly bonds of earthly heartache and landing among the stars: "I'm so tired, I'm so tired, and I wish I was the moon tonight."
Weighing in at a scant four tracks, Cosmic Country Stars: Andrew Sa is a slight but sumptuous collection, charged with all the campy drama a country queer could want—a single, sparking, deep-blue tear, rolling down an immaculately made-up cheek.