Rethinking Race and Gender in Country: Four Essential Books
By Joshua Friedberg, Contributing Writer
Country music may often be called "the white man's blues," but questioning that construction is long overdue. 
With Lil Nas X scoring the biggest Billboard #1 hit in history—not merely the biggest country crossover—with "Old Town Road," and continued controversy over the underrepresentation of women on country radio and award shows, many commentators in popular media have increased their coverage of issues of race and gender in the country industry.
Historians and critics alike have cataloged lists of African American innovators in country, often focusing on figures like Tee Tot Payne and Arnold Shultz, who played key roles in the music of Hank Williams and Bill Monroe respectively.
However, as the twenty-first century scholarship of Diane Pecknold and others makes clear, scholars, critics, and fans mustn't focus only on the historical influence of blacks on their white peers, but engage more deeply with the current, active involvement of black country musicians and fans.
There's a similar reckoning happening with gender. Authors like Robert K. Oermann and Mary A. Bufwack have written for decades about women's contributions to the country field, but few have gone so far as Holly Gleason, whose 2017 edited collection, Woman Walk the Line: How the Women in Country Music Changed Our Lives, claims country is "in many ways women's music".
Still others, especially scholars like Nadine Hubbs, have extended the analysis of race and gender in country music beyond the black-white binary and into LGBTQ+ territory with books like Rednecks, Queers & Country Music and the forthcoming Country Mexicans.
Hubbs recently edited a country-focused issue of the Journal of Popular Music Studies, which focuses on the diversity of the genre's practices and processes. This issue and other texts amply demonstrate that some of the most impressive music scholarship today is coming out of analysis of country.
Simultaneously, there is often a backlash to progressive forces in history and culture, and whether or not they are intended as such, books like Ted Gioia's 2019 survey, Music: A Subversive History, while sometimes illuminating, grossly mischaracterize the roots and history of country and reinforce the perception of country as a white man's world.
As a corrective, this article names four essential books that redefine, rethink, and redraw many boundaries constricting how we think about race and gender in country music. While all were released roughly in the last decade from university presses, some are for general readers while others are more for academic specialists. All highlight new ways of thinking of and understanding important dimensions of country, including its performative dimensions regarding authenticity and perceptions of its core audience.
Hidden in the Mix
Hidden in the Mix: The African American Presence in Country Music, ed. Diane Pecknold (https://read.dukeupress.edu/books/book/1623/Hidden-in-the-MixThe-African-American-Presence-in)
While Diane Pecknold is known as an expert on the business of country, as established by her 2007 book The Selling Sound: The Rise of the Country Music Industry, she is also an eminent scholar on race and gender in the field, including as coeditor of A Boy Named Sue: Gender and Country Music and Country Boys and Redneck Women: New Essays in Gender and Country Music. Her insightful introduction to the 2013 collection Hidden in the Mix: The African American Presence in Country Music, highlights some of the key problems in how country music discourses depict African American figures in the music's history. This collection of brilliant chapters by a diverse group of scholars helps readers refigure what it means to be a black musician, songwriter, entrepreneur, or fan in country.
Writing on topics ranging from the trajectory of African American engagement with the banjo, which originated in Africa and later became transfigured into a symbol of white historical nostalgia, to the salience of country in St. Lucia in the Caribbean, reconstituting how we think about country in the United States, scholars in this volume consistently add new perspectives and help readers form new narratives about country and its history regarding race.
While not the most cohesive book—it is an edited anthology of essays, after all, rather than a straightforward monograph recounting the history of African Americans in country—Hidden in the Mix educated me on a number of key black contributions to country. Pecknold's chapter on the legacy of Ray Charles's country work helped form much of my research for an article on it that I wrote for PopMatters. Pecknold and the other authors do more than most to rethink race in music, demonstrating the instability of country's whiteness. I highly recommend this book.
Rednecks, Queers, and Country Music
Rednecks, Queers & Country Music, Nadine Hubbs (https://www.ucpress.edu/book/9780520280663/rednecks-queers-and-country-music)
One of the most convention-busting books I've ever read, musicologist Nadine Hubbs's 2014 book, Rednecks, Queers & Country Music, combines multidimensional analyses of country recordings (particularly Gretchen Wilson's "Redneck Woman" and David Allan Coe's "Fuck Aneta Briant" [sic]), arguments about the supposed virulent homophobia and racism in white working-class communities; and analysis of the classism in what she calls "the narrating class," with many quick to assert that they listen to "anything but country."
Hubbs's insightful assessment of different themes and values in country that are prominent in white working-class communities, as well as of what constitutes "the political" in country music discourses, prove among the most insightful commentary, while her analysis of the aforementioned "anything but country" trope, informed by theorists like Pierre Bourdeiu, is also persuasive.
I recommend this book for anyone looking for a unique perspective on class, gender, sexuality, and race—not just people interested in learning about country music and its history, though it has plenty to teach many a music scholar as well.
Woman Walk the Line
Woman Walk the Line: How the Women in Country Music Changed Our Lives, ed. Holly Gleason (https://utpress.utexas.edu/books/gleason-woman-walk-the-line)
Given the ongoing debates on women's representation in country, if you've ever wanted a manifesto for country as women's music, this 2017 edited collection of personal essays fills the bill. Holly Gleason has edited a moving compendium of female writers writing about their favorite women in country music, and gives ample evidence of the power of country music to women as listeners, fans, and creators.
In addition, the book has a few essays on women of color in country music, including Lil Hardin, Rita Coolidge, and Rhiannon Giddens, as well as multiple narratives written by or involving LGBTQ country artists and fans. But while highlighting the often-overlooked diversity of country music's artists and audiences, the collection also emphasizes how the business acumen of stars like Barbara Mandrell and the moving music of Emmylou Harris and Patty Griffin inspired women in their careers—and sometimes even helped heal major trauma. 
While, as I have written elsewhere, Woman Walk the Line is emphatically not a canonical overview of female country greats, if you're looking for an accessible book to understand women's importance in country, this is a great place to start.
Natural Acts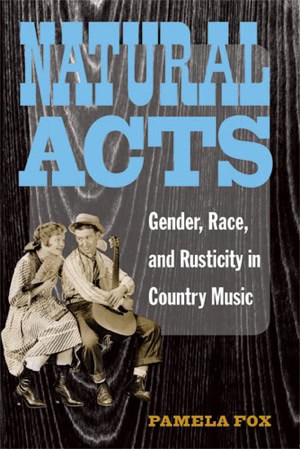 Natural Acts: Gender, Race, and Rusticity in Country Music, Pamela Fox (https://www.press.umich.edu/277898/natural_acts)
"Authenticity" is a word with enough interpretations that it can mean everything and therefore nothing. As Nadine Hubbs writes in Rednecks, Queers, and Country Music, genres like country and hip hop, associated with working class people, are often subjected to greater scrutiny for how "authentic" the music and artists' personae appear to be. If you want a book with a wealth of innovative lenses and interpretations of authenticity in any kind of art, I recommend Pamela Fox's 2009 book, Natural Acts: Gender, Race, and Rusticity in Country Music.
This book is the most theoretically sophisticated work on country that I have ever read. Its arguments defy neat summary, as English and Gender Studies professor Fox weaves intersectional strands of class, gender, and race into her study of key moments when country discourses—including recordings, interviews, autobiographies, and promotional materials—focused on the music's perceived authenticity. Going back to the early days of radio barn dances and blackface performance through the increasing primacy of alt.country in the twenty-first century, Fox's book is not quite a catalog of every moment that country signaled its "realness," but its rich use of academic theory ranging from Pierre Bourdieu to Raymond Williams makes this one of the most useful books that I've seen that applies academic discourses to a music genre.
Published in 2009, Natural Acts is especially insightful around gender, highlighting how different moments reflect alternately masculinized and feminized renderings of authenticity. Fox especially provides a service to the world of country when she focuses on authenticity in the work of female artists from Jean Shepard and Kitty Wells to Gillian Welch and Iris DeMent. Fox's chapter on female country artists' autobiographies redefining authenticity in the 1970s, '80s, and '90s uses some of the most sophisticated interdisciplinary reading of multiple forms at work—literary, musical, visual—that I have seen in any work in Cultural Studies. While this book might be dizzying in its layered complexity, it gives credence to a comment from sociologist Barry Shank about the book: "Country music studies has come of age."