Queering the Country Crooner: Orville Peck, Stephin Merritt and Hank Pine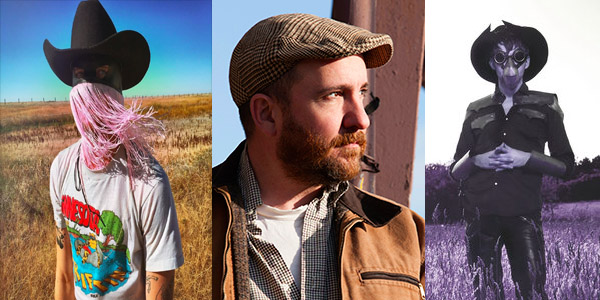 by Steacy Easton, Contributing Writer
The intersection of queerness and country music, and of the lonely body in the west, has become its own trope in the last couple of decades. Stephin Merritt, the indie singer-songwriter of the Magnetic Fields, wrote an encyclopedia of love song tropes in his 1999 album 69 Love Songs. One of those songs was called "Papa Was a Rodeo". The song updated the form of the rounder–a concept from Appalachian ballads of a man who moved across landscapes, foregrounding pleasure wherever it could be. Merritt's version is different: the gender is ambivalent, and in a measure of great optimism, the rounder finds a lover who stays with them for decades.
Kelly Hogan heard the song in concert, and released it before the Magnetic Fields did. Hogan makes the song less ironic, but Meritt still finds a hunger, in lines like "You made it pretty clear what you like", profoundly ambivalent; one is never sure that what is "liked" is companionship, the body of the singer, another beer, another night at the honky tonk, or something even more difficult to achieve.
Hogan covering Merritt, both working out an earnestness in the midst of irony, or even the idea of a formal exercise in pop genre becoming genuinely heart breaking, has introduced a kind of mini-genre. I am curious about how artists like Hank Pine or Orville Peck have viewed the song. Both have an indie sensibility, and both inherit a kind of country view. Pine has a ghostly voice, and sings somewhere between an almost twee, indie style, and a folk drawl. The topics, like Merritt's, are country topics: prison songs, songs about long roads, about heartbreaks, and a pain that seems Western.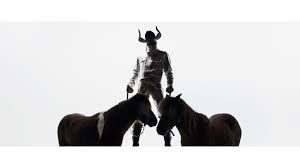 The Western sadness is also key to Peck's 2019 album, "Pony." Peck is aware that drag is its own kind of authenticity. The album is a queer album, for a lot of reasons: because a queer person is singing on it; because it is about a man wanting to have sex with men; because it is about the failures of desire, and the anxiety about that sexual wanting ("On Turn to Hate", he does this, while invoking agricultural metaphors, which you know, total country power move: "Don't leave, don't cry/You're just another boy caught in the rye/Don't say goodbye/Head full of nothing and I'm wondering why"). There are other country references–songs about big skies and rodeos, notes about ultra violence which have a Sergio Leone flair.
The drag of Merritt is found within the context of the song; his move through lines of gender and sexuality often does not exist on stage. The difference between Peck or Pine, and other indie folks flirting with country music, is how good they are at the whole mythology of self. Pine has an elaborate backstory, that combines his sexuality with northern British Columbia, his home region. Peck has kept some of his backstory in mystery, but has talked about growing up on the prairies, and the masking becomes an exercise in both place and genre.
Pine wears a silver oval over his face, and large steampunk style goggles. He resembles an alien or a monster from a 1950s B Movie, more villain than the heroics suggested by Orville Peck's leather domino mask, offset by a tasseled fringe. While Pine's mask seems to be a good time, a kind of low key jape, Peck is more complex, and semiotically rich. It could be that lone rangers mask, or a kind of blending of genders–the butch of the leather, and the femme of the fringe; it could be a mask which instead of hiding, indicates several kinds of desire—could indicate both aesthetic tastes (for an old schoool country aesthetic) or sexual tastes (as a sub, or as a bottom?); both shame (in that he does not think he can sing as a country artist without it) or pride (nothing makes you stand out in a crowd more than a full face mask.)
In this sense, Pine and Peck, among others, are asking questions about what masculinity means in the west, what desire could mean, and what the implications of being out as a country fan, and as someone queer, might mean.
If Merritt's songs teach us that permanence can come from the rounder settling down, or that earnestness can come from irony; or even that a country love song is not really different from a Broadway melody; then both Pine and Peck suggest that country is another kind of drag. Peck's shoegaze, droney loneliness, and his crooning over it, has a cultural memory of other kinds of crooning, other kinds of queerness, and other kinds of being country.
In a post-Spotify age, and in the summer of Lil' Nas X, strict genre definings become a mug's game, listening to Peck or Pine, or other post queer country crooners (Indiana Queen, Little Bandit, to name two. ) Being a rounder over genre, over the interior space of a genre, has as much significance as being a rounder over a region.