Interested in writing for StrangeFireMagazine? Send us an email to strangefiremagazine@gmail.com and tell us what you have in mind.
Cindy Emch: Editorial Director

Cindy Emch is the founder / lead singer for Secret Emchy Society, the host of Emchy's Outlaw Americana on Gimme Country radio, a professional music curator, actively touring musician, and good old fashioned rural Michigan tomboy femme who has been living on the Wild West Coast of California since the 1990's. She/Her.
Anna Dickinson: Contributing Writer
Anna Dickinson is a musician, artist, engineer and the principal song writer of the Bay Area queer band, Polythene Pam. Post-transition, Anna found her voice (literally) and now uses it to sing quirky, inspiring tales about queer life. In other lives, Anna has pursued careers in semiconductor chip design, VFX for movies, and software development.
Ryan Cassata: Contributing Writer
Ryan Cassata is an award winning singer-songwriter, actor, performer, writer and LGBTQ activist & motivational speaker based in Los Angeles. With features in Rolling Stone, Billboard Magazine, The New York Times, Buzzfeed, and The Daily News, Ryan has made the most of his young career, which started when he was just 13.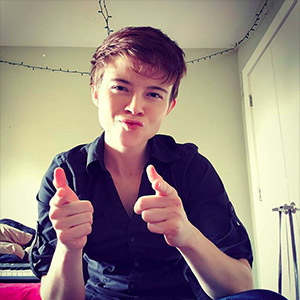 Wes Spaulding: Contributing Writer

Wes Spaulding (he/him/his), 24 year old biomedical engineer/musician/writer from San Pedro, CA.
Strange Fire Alumni
Kevin James Thornton: Founder / Former Editor in Chief
Kevin is a filmmaker and singer/songwriter who lives in Nashville with his partner and 3 cats. His group Indiana Queen has been making queer music in the south since 2003. He is also a contributor for the Huffington Post and the original host of the weekly Strange Fire podcast. He has currently stepped away from Strange Fire to work on film and music projects